Here at Hartley Farm we are joined by some brilliant local businesses that all contribute to life here at the farm.
Grown Green
Kate Collyns joined us at the end of 2010. Kate has brought with her a huge amount of experience and knowledge in food production and horticulture after working as an Organic Apprentice at Purton House in Wiltshire since the beginning of October 2008.
After finishing her apprenticeship she started up her own market garden here at the farm and after not even a year we are starting to see the fruits of her labour.
All of the produce grown by Kate on the farm is sold through our farm shop.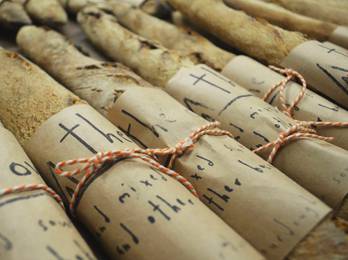 The Oven
Nathan and Angie fired up their sourdough bakery in the autumn of 2014.
After years of training and working in some of the best craft bakeries around Europe their dream was to settle somewhere and start their own bakery.
We were thrilled when they asked us if they could join us at Hartley Farm! Their bread is all based around their own sourdough culture, created with surplus fruit from the farm.
They specialise in just a few loaves and you can find their entire range in our farm shop from Tuesday to Saturday fresh from the oven.
Email Nathan and Angie
Bath Bespoke
Tom Jones-Marquez and James Etheridge run Bath Bespoke up at Hartley Farm. Their talented team of craftsmen and women design and make high quality bespoke kitchens, cabinets, fitted furniture and architectural joinery. They also sell a collection of elegant, freestanding furniture pieces and beautiful wood flooring that will be enjoyed by generations.
The Bath Bespoke team take great pride in their work and have a fast-growing reputation for forward-thinking, innovative joinery and furniture solutions.When you next visit Hartley Farm Shop, take a closer look at the timber frame building and shop display fittings – much of it was lovingly designed and constructed by James and Tom. Their workshops are open from 8am – 5pm, Monday to Friday and you are welcome to drop by, meet the team and chat to them about your project.
More from around the farm
Sharing our passion for food and farming
With 5 generations and over 100 years of farming experience in the family, we are hugely passionate about producing & serving the best food in our family-run farm shop & kitchen.