Celebrate Christmas with Hartley
Christmas is undoubtedly our favourite time of the year.
Not only do we get an excuse to over indulge (as if we need any), but it's guaranteed to get us back around the table with friends and family.
There's so much going on at the farm to help you get ready for the big day so you can enjoy yourselves.
Farm Shop and Butchers
Always the focus of attention at the table, we've got you covered. Whatever your preference for turkey, beef, duck or goose, our butchers can help you choose the star of your Christmas lunch.
Order your meat along with all the other trimmings then collect on the day that's convenient for you.
Kitchen
It's such a shame that we only get to enjoy Christmas lunch once a year… so why not come to us for a second, or third, or fourth helping! Perfect to catch up with friends or family you may not get to see on the 25th.
Bookings for a minimum of 6 or more, Monday to Friday in December.
What's going on this Christmas?
Saturday 30th November 2019
We will be joined by some of our best-loved suppliers for a fabulously festive day at the farm.
Wonder around our Christmas market with a glass of mulled wine and perhaps a cheeky mince pie!
We will also have a brilliant day of food demonstrations and Christmassy performances to make it a truly delicious day.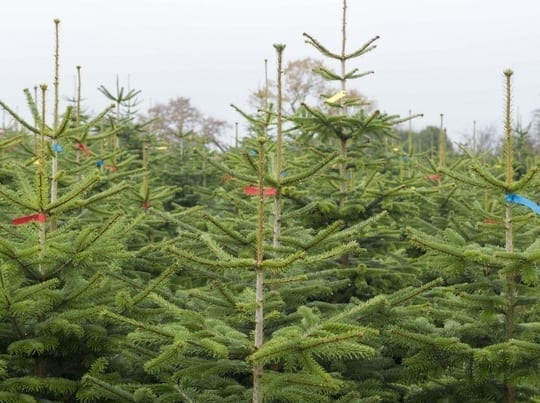 Christmas Trees
We're delighted to have the Flying Fig Christmas Tree Company back with us this year with their non-drop, premium Nordmann Firs ranging from 3-8ft.
Opening times as the Shop from 1st December:
Monday to Saturday 9am – 5:30pm
Sundays 10am – 4pm
Christmas Opening Hours
Escape the relatives or pick up a last minute gift or emergency supplies. We'd love to see you over Christmas. Our opening hours will be as follows:
23rd December 8am – 6pm
24th Christmas Eve 8am – 12pm
25th Christmas Day Closed
26th Boxing Day Closed
27th December Closed
28th – 31st December 10am – 4pm
New Year's Day Closed
2nd January Open as normal
OPENING HOURS
For the farm shop
Monday to Saturday 9am – 5:30pm
Sundays and Bank Holidays 10am – 4pm
For the farm kitchen
Monday – Saturday 9am – 5pm
(kitchen closes at 4pm*)
Sunday and Bank Holidays 10am – 3:30pm
(kitchen closes at 3pm*)

*open for coffee & cake until close.
COME AND SAY HELLO!
For the farm shop
Monday to Saturday 9am – 5:30pm
Sundays and Bank Holidays 10am – 4pm
01225 864 948
Did you know we have a sister site at Neston, Atworth?