Are you open?
Yes, we are! Our farm shop is open from 9am until 4pm Monday until Saturday and 10am until 4pm on Sunday.  You can either visit us to shop or shop online through our click and collect service.
Is it safe to visit the farm shop?
We advise anyone who isn't feeling well or showing symptoms to avoid visiting us. If you would like to visit the farm shop, we currently have a few additional measures in place to make our shop as safe as possible. These are:
A queueing system outside the shop (partially covered if it rains!) well marked to respect distancing measures
A maximum number of people in the shop at any one time
Distancing markers throughout the shop
We are asking people to shop on their own (no groups or children please)
No cash accepted.
Additional cleaning rotas to keep the shop clean and hygienic.
Face masks will become essential as of 24th July 2020
I need to have my children with me when shopping, how can I still shop with you?
We do not want to exclude anyone who would like to shop with us. We also have a duty to ensure that the shop is as safe as possible and controlling little ones in small spaces can be tricky when there is so much to tempt them. Please keep little ones close by and supervised at all times. You can also use our click and collect service and we'll bring your shopping to you. More info is at the bottom of this page.
How can I order food from you?
We have an online shop offering a contactless click and collect or delivery service with an ever-increasing range of products available. You can browse through our products adding to your basket as you go. When you have finished shopping, head to the checkout page where you can select a date and time slot to collect your order from the farm shop. 
There is also some guidance towards the bottom of this page.
How do I collect my order?
When you order, you will receive a confirmation with a mobile number to call. When you arrive at the car park, call the number and let us know what car you are in, open your boot and we'll pop your shopping in the boot for you.
Do you deliver?
We are currently delivering to local towns and villages to the farm shop on Fridays with a minimum order of £40 and a £5 delivery charge. More details can be found here. 
Can I change my order?
Unfortunately we are unable to allow alterations to your order after it has been placed.
Can I place a regular order?
You can place an order each week, however, we are unable to set up a subscription type service currently.
Can I order for other people?
Yes! Due to the volume of orders, it would be very beneficial to you and us to group together with families or neighbours to collate your orders and make one order with us.
Can I still use my loyalty card?
If you are shopping in our farm shop you can still use your Hartley Farm Loyalty Card. However, we currently do not have the ability for you to use your loyalty card through our online shop. We are currently working on a separate loyalty system for our online shop and we'll keep you posted on progress!
Placing an order
You have one of two options to place an order with us.
Minimum order is £25
1. Browse our selection of food boxes and other items on our online store. You can then add the products you want to your basket, then when you come to checkout, you can choose a delivery date and time and finally pay for your order. You will then receive a confirmation email with instructions of how to collect your order from the car park with a phone number to ring to let us know when you arrive.
2. Email us using the contact box below. You will receive an automated message confirming your email has got to us. We will then reply confirming your collection date, we currently have a 2-3 day turnaround on orders placed. On the day of your collection, we will then call you to take payment over the phone and confirm your order is ready to collect. We will also give you the number to call to let us know when you arrive in the car park.
 * Please note we are unable to take orders left on our answerphone.*
Latest related news updates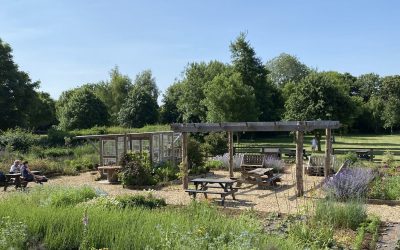 With the news at the start of July that cafes can reopen, we got our thinking hats on to see what we could do to make this summer a special one for everyone as we move into our new normal. We love seeing people enjoying the outdoors at our farm and have a wonderful...
If you still have questions please contact us for more information about our approach relating to Coronavirus Covid-19