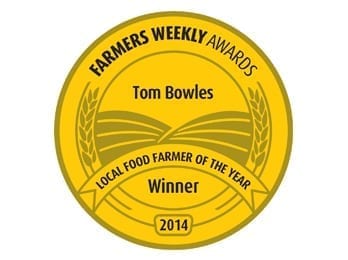 Our story began over five generations ago and we have been farming livestock in the village of Winsley, in Wiltshire ever since. Today we are home to a suckler herd of native-breed grass-fed beef cattle. In 2008, in an effort to return great quality local meat to our local market we opened our farm shop and butchers and have not looked back since.
We believe the best quality meat starts with happy, healthy animals. At the heart of everything we do is the basic farming principle of high welfare and good animal husbandry. Along with our own beef we source from local farmers who also share our ethos. Our meat is traceable, properly cared for before and after slaughter and as a result has won us many awards over the years, most notably the Farmer's Weekly Local Food Farmer of the Year.
Traditional Butchers
Our meat is sourced directly from local farmers. We dry-age our meat, our beef in particular for at least 3 weeks. Our skilled team of butchers cut and prepare all our meat the traditional way by hand. All our sausages are homemade using our own unique blends of herbs and spices.
For Today's Market
Today's world has brought with it new challenges, especially at mealtime. We work hard to find a solution for today's demands. We have a range of gluten-free products and also prepared meals for those last-minute mid-week meals. Of course, we use the same high-quality ingredients for our meal solutions to ensure convenience doesn't compromise quality
Contact Us
If you'd like to get in touch with our farm shop team please use the form here to send us a message.
More from around the farm
Sharing our passion for food and farming
With 5 generations and over 100 years of farming experience in the family, we are hugely passionate about producing & serving the best food in our family-run farm shop & kitchen.